Translated from German
VLamax, the maximum lactate formation rate

The secret of endurance performance (- the professionals)


VLamax maximum lactate formation rate - the secret of professional athletes

In the context of conventional power diagnostic examinations the anaerobic threshold and the maximum oxygen intake is normally determined. Comparing the performances of professional athletes and amateur or recreational athletes, show significant differences: the anaerobic threshold of a 75kg professional cyclist is approximately 400 to 450 watts, which in an equally serious amateur, however, about 35% lower at only 300 watts. The maximum oxygen uptake is different in both types of athletes but only by about 10%. Thus, the 35% difference in the anaerobic threshold (= aerobic capacity) can not be explained by the difference in oxygen uptake.

What is different with professional athletes, or what needs to change the amateur athlete to make this difference smaller?

The reason for the difference between the very high endurance capacity of the professional athlete and the low power of the amateur is the difference in lactate production rates. The maximum lactate formation rate, is lower in the pros by about 175% as in recreational athletes. What are the consequences?

A high maximum lactate formation rate (VLamax) means that even at lower loads in endurance much lactate is always produced. Furthermore, increased consumption of carbohydrates during training and competition adds to this. Fat burning is also degraded when the lactate formation rate is high!

In the truly unique STAPS diagnostics the maximum lactate formation rate is measured very accurately. This provides you with exclusive knowledge of these important parameters so you can make your workouts more effective. Through targeted training, lactate production can reduce the carbohydrate consumption, improve fat burning and increase especially the performance of the anaerobic threshold significantly.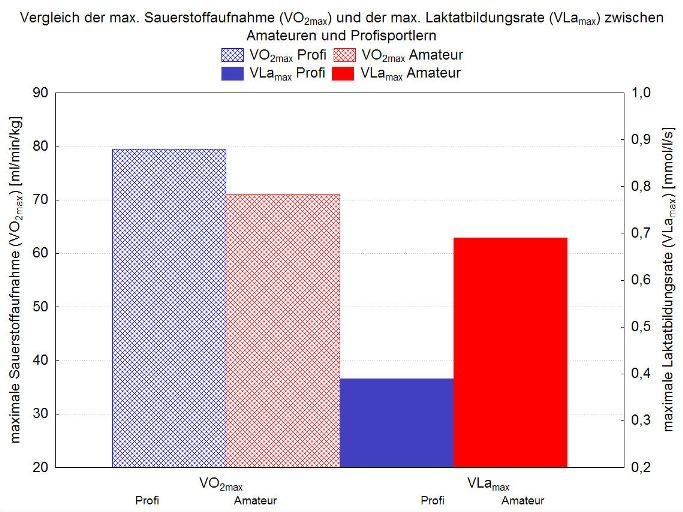 Basically this visual reinforces the chart from above in that the reason why some cyclists are amateur and recreational and others are able to compete nationally or internationally is that their anaerobic capacity is too high.

The STAPS website has been changed. This visual is from a previous version of the website: